His Sire
Capitol Don Cumarco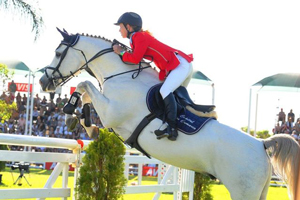 Imported BWP Stallion – Licenced SAWHS
Born 02/05/2003 – Standing 16.1hh
One of the most outstanding jumping stallions on the International circuit, Cumano, is the sire of Don Cumarco. He has performed time after time at the very highest level and under Jos Lansink, memorably won the World Championship in Aachen. As a breeding stallion, Cumano has produced more than a few approved stallions, and top quality sport horses. It is the stallion given the title of 'BWP Ambassador' that produced Don Cumarco's mother, the amazing Darco. He has been the number one stallion in the world and has sired many quality stallions such as Parco, Winningmood, Non-Stop and Kimball, as well as showjumpers competing around the world like King Darco and Sapphire.
Cavalor Cumano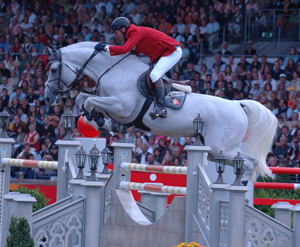 Licenced BWP Stallion
Born 1993 – Standing 17hh
Superb Holsteiner jumper breeding, being by top jumper Cassini I (F Sloothaak) a multiple grand prix and world cup qualifier winner initially and now a leading sire of international jumpers including 'Eurocommerce Berlin' (Gerco Schroeder), 'Ingmar' (Achaz von Buchwaldt) and 'Rosalia la Silla' (Alberto Michan) His dam is by the superb Landgraf I, one of the most successful jumping sire of all time. His progeny include 'Libero H' (Jos Lansink), 'Taggi' (Soren von Ronne), 'Freestyle' (Jean-Claude Vangeenberghe) and 'Waterford Crystal' (Cian O Connor) Cumano was the ultimate performer, winning the Individual World Showjumping Championship in Aachen in 2006 under Jos Lansink. He was 2nd individually in the European Championships at Mannheim in 2007, having been 4th in 2005. He was 9th Individually at the Olympics in 2008. He won the Calgary CSIO Grand Prix in 2004, was 2nd in the Grand Prix of Valkenswaard and 3rd in the Grand Prix of Aachen CSIO in 2005.
Dam Sire
Darco

Licenced BWP
Born 1980 – Standing 166cm
Sire 'Lugano van la Roche' was himself ranked one of the top 5 showjumping sires in the world, being the sire of Peter Charles European champion 'La Ina', also 'Egano' who won team gold at the Barcelona Olympics with Jos Lansink and 'Isuara van de Helle' (Eric Wauters) The dams line while not themselves international competitors, all competed in Belgian rural competitions and were reputed to be really brave and always very competitive. Top international showjumping winner for a number of years under the saddle of Ludo Philippaerts. He was careful and very competitive and usually in the ribbons. He won the World Cup qualifiers at London Olympia in 1988 and sHertogenbosch in 1989. He was 4th in the Aachen Grand Prix and 2nd in Calgary Grand Prix in 1990 and in the same year was 6th individually in the World Championships in Stockholm. 2 years later he was 7th individually in the Olympic Games in Barcelona.
Lansing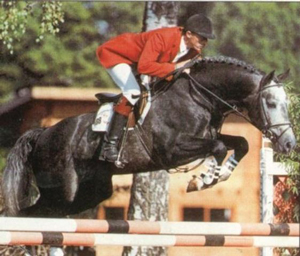 Licenced Holsteiner Stallion
Born 1986 – Standing 166cm
Lansing comes from the wonder stallion Landgraf I, Sire of Sires, and sire of top competition horses who is remembered by jumpers and breeding stallions such as Burggraaf; Libero H; Waterford Crystal; White Jumper; Libertino; Landadel and Latano. Lansing was a very successful sport stallion where he was a winner at GP level in Germany. He is out of the famous mare, Monoline who is also the dam of both the top stallions, Calvin Z and Cantus. It is therefore no wonder that the Holsteiner Verband made such a big effort to buy Lansing after his sporting career as they realized how valuable he was for breeding. Ramzes is a stallion that has been responsible for top competition horses as well as numerous top stallions in nearly every stud book in the world.
Contender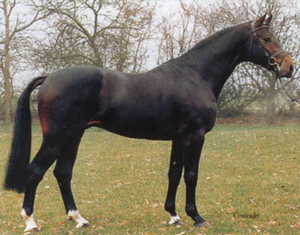 Licenced Holsteiner Stallion
Born 1984 – Standing 171cm
In Cor de la Bryere, Ramiro and Ladykiller, Contender's pedigree contains most of Holstein's recent influential sirelines with the exception of Capitol. His sire Calypso II was a successful breeder of jumping horses, in both Holstein and Hannover, noted for their good shape over a fence and their ridability. His dam Gofine produced a number of good jumpers including 'Ulina' (Susan Behring). She is also the grandmother of 'Casandro I' (Jerry Smit), 'Fine Kiss' (Michel Robert) and 'Caliskan' (Candice King). Having won his stallion performance test with a jumping index of 146.6, Contender went straight to stud.