Midnight Dream to Special Effects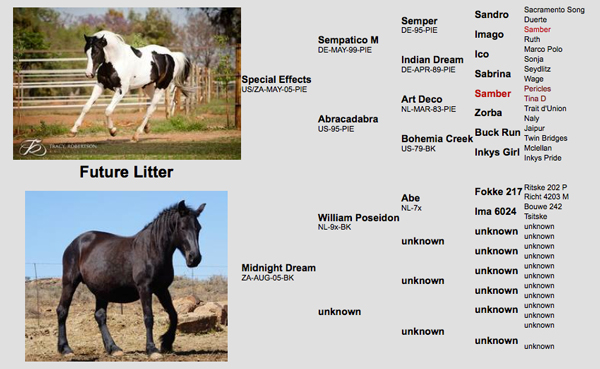 Edna van Smitsvlei to Wessel van Smitsvlei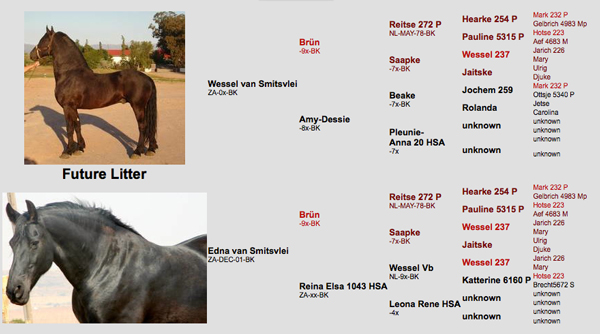 Southcross Amidala to Midas-Touch Samurai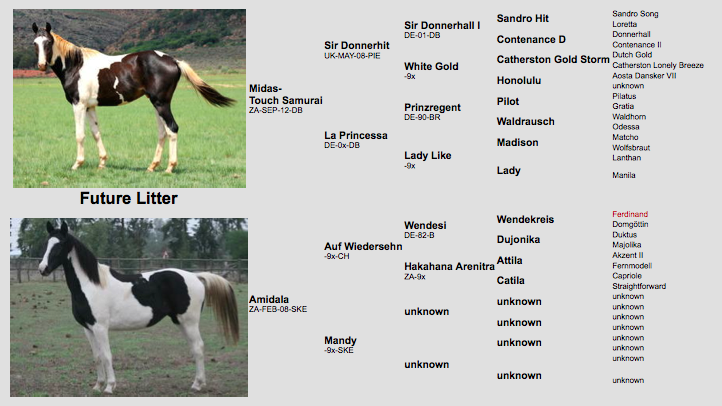 This combination has a 50% chance of producing a tobiano foal, it will likely be either dark bay or black tobiano.
Eagles Whitney to Joepie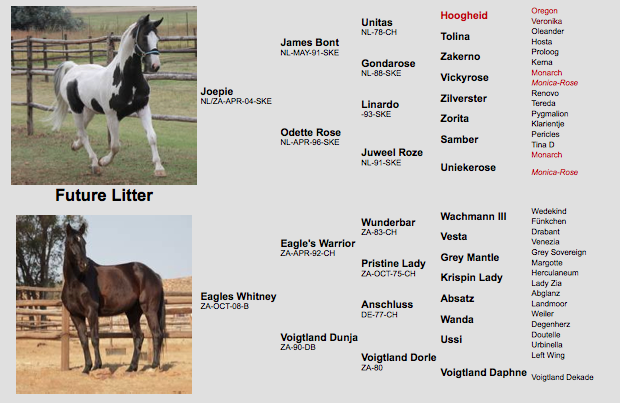 The combination of two very powerful jumping lines. Foal is 100% guaranteed to be tobiano. Either Chestnut, Black or Bay tobiano.
Midas-Touch Urica to Joepie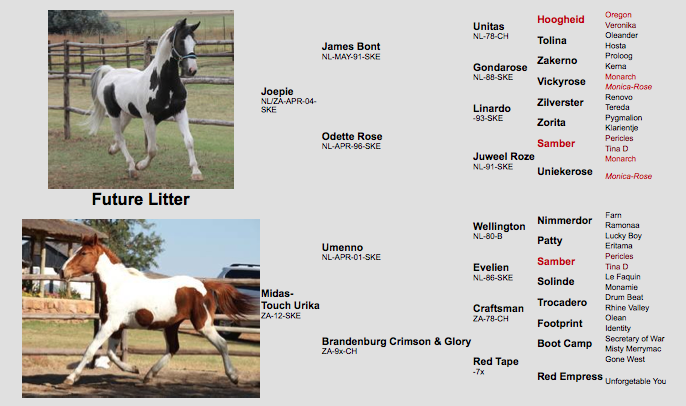 Still born foal, born 25 October 2016.
Perfume Gift to Welt Eiger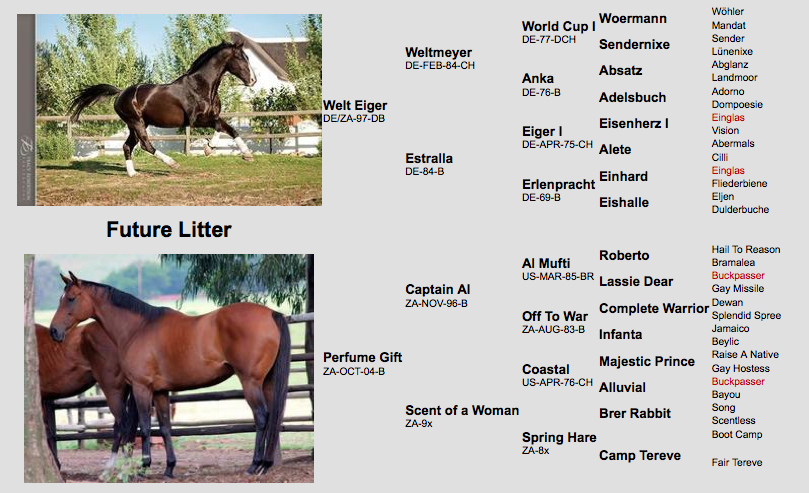 Perfume Gift was put to Welt Eiger to produce what I hope to be a super dressage prospect. Her absolutely perfect conformation and floating movement combined whith his amazing mind and proven ability, not forgetting his blueblood pedigree, should produce a foal that is bound to impress.
Savannah Sunset to Special Effects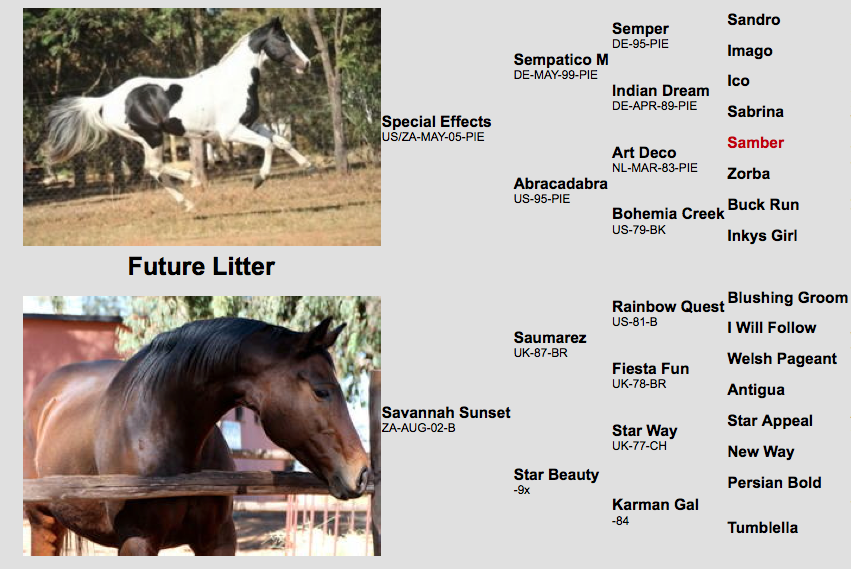 Savannah Sunset was bred to Special Effects. Savannah has topped our expectations with last years foal and we are hoping that she will duplicate the magic this season!! Very excited about her second foal, and what makes it extra special is that the foal is by my late stallion, Special Effects.
Victorious Image to Welt Eiger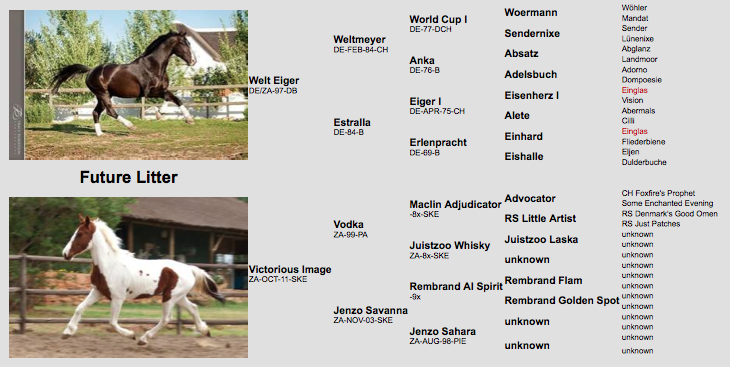 Victorious Image was put in foal to Welt Eiger. She has matured into a very substantial mare and we are very excited to see what she will produce. 100% tobiano foal.
Juliana van Smitsvlei to Special Effects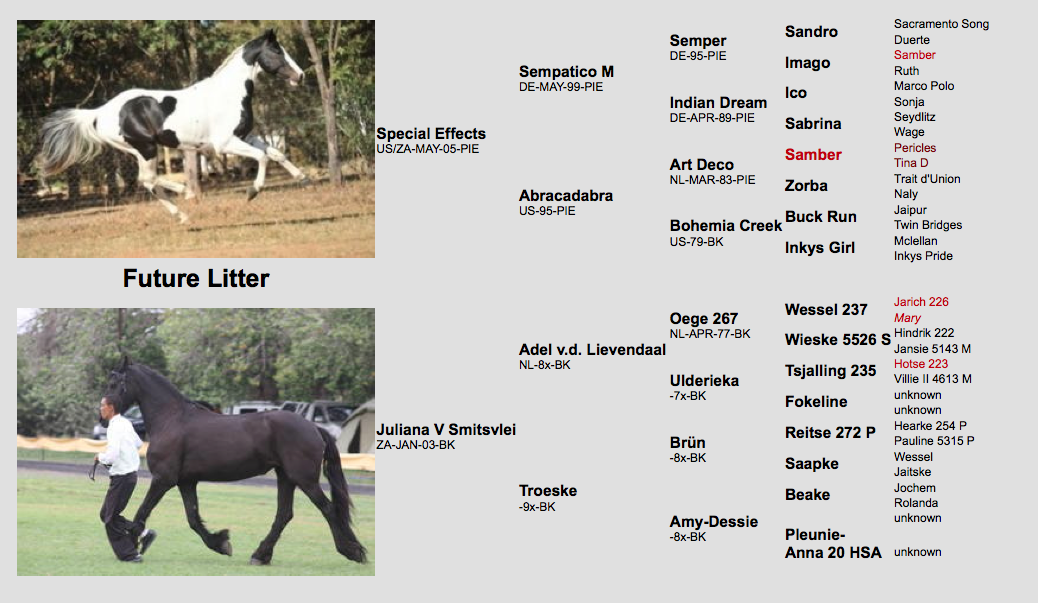 Foal Re absorbed.
Juistzoo Hunter to Welt Eiger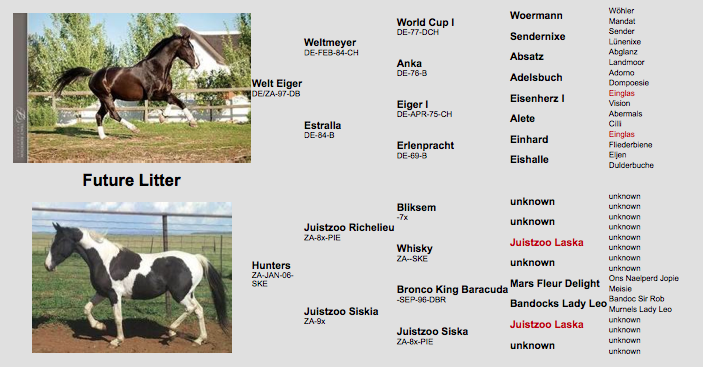 Juistzoo Hunter was also bred to Welt Eiger. This foal should be a show stopper. Hunter always stamps her foals with her stunning refined features and her amazing movement. And with Welt Eiger as sire, it is sure to be magnificent!! 100% Tobiano foal.
Just 'an Angel to Special Effects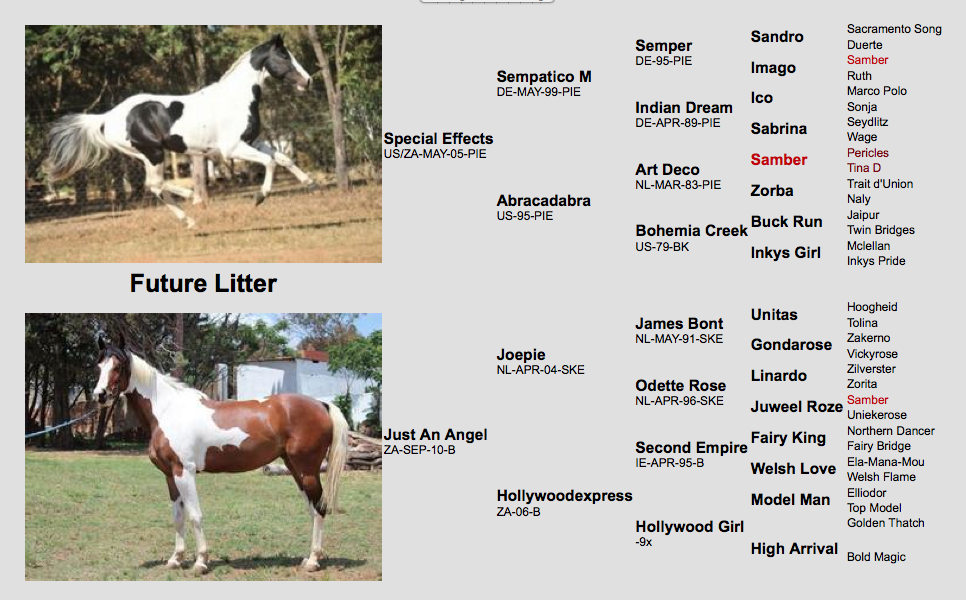 Just 'an Angel was bred to Special Effects. This was a last minute change of plans as she was initially booked to Zospecial, but she didn't take on the first 2 AI attempts. We substituted Special on the third try and she took. Shortly After, my boy Special died, and I couldn't help feeling that this pregnancy was meant to be. This foal will definitely be tobiano and has a chance of being homozygous tobiano. The foal will be retained.
Saratoga Louisianna to Midas-Touch Samurai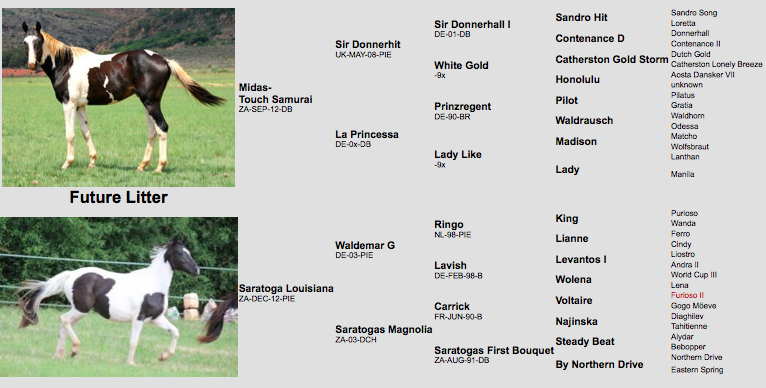 Saratoga Louisianna was bred to Midas-Touch Samurai. This match combines the bloodlines of some of the best performance horses in the industry. No doubt this foal should be something spectacular!! 50% chance of being Tobiano and also has a chance of being homozygous.