Sir Donnerhall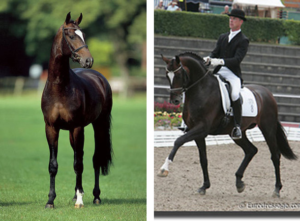 Sir Donnerhall has bred top quality progeny over the years that he has stood at stud. Many Champions and licenced stallions are amoung his sons.
Sir Donnerhall's popularity is in clear evidence at auction. Sankt Hülfer was the highest priced lot at the Vechta Elite Spring Auction, selling for EUR 300,000, only to be topped by Schickeria's sale price of EUR 355,000 at the NRW Elite Autumn Auction. His son Sir Rubin – first reserve champion 2007 – won the Oldenburg Regional Championship for Three Year Old Riding Stallions and Surprise von der Heide was the first reserve champion at the Oldenburg Elite Mare Show. Even the first crop of foals set a benchmark when Sir Donato was sold at the Münster-Handorf auction
for EUR 150,000.
Sir Donnerhall fascinates onlookers wherever he goes. Reserve champion at his licensing in 2003, he had the highest index at his 30-day test and achieved an unheard of 163 points in his 70-day test dressage index. Scoring 9.2, he won the World Championship for Five Year Old Dressage Horses qualifier to take the Vice World Champion title, and he later won the Bundeschampionat.
Sir Donnerhall's pedigree is the perfect combination of genes. His dam, Contenance D, is a "Brillantring" mare, who produced another licensed stallion which is full brother to Sir Donnerhall. Grundyman xx in the fourth generation rounds off the pedigree with the crucial refining element of thoroughbred blood.
Sir Donnerhall is a rare example of a pedigree stallion.
Sandro Hit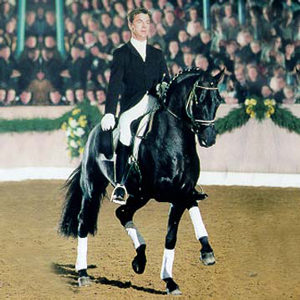 His Sire is none other than Sandro Hit…
Sandro Hit has started a new dynasty in the dressage horse breeding. Chic, modern, strong-moving progeny, who are gifted with fascinating charisma, conquered the market: Top-priced auction foals and horses, more than 17 licensed stallions including several champion stallions, state premium mares, championship candidates, Grand Prix winners and several others.
Sandro Hit has produced 11 Bundeschampions to date – and at the 2011′ World Championship for Young Dressage Horses he presented numerous finalists such as Showtime, Sunday or Soulmate. Finalist of Nürnberger Burgpokal Sorento OLD was decorated VTV Dressage Stallion, and therewith followed the multiple Grand Prix winner Sancisco OLD who has been already presented the award in 2009.
Sandro Hit's inheritance is setting new records: 142 mares were awarded a state premium, numerous progeny were auctioned for top prices like 2.5 million Euro for the unforgotten two-times Bundeschampion Poetin, the Bundeschampion San Doncisco sold for 580,000 Euro and several others. He himself was striking Bundeschampion and World Champion of Six Year-Old Dressage Horses.
Sandro Hit's dam, Loretta, has passed on her genes exorbitantly to three significant licensed sons like Royal Hit, Grand Prix winner Diamond Hit who is sire of the 2011′ NRW champion stallion.
Catherston Gold Storm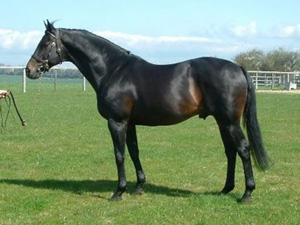 Gold Storm is a beautiful example of a modern type of stallion. He has great charisma and charm. His paces are exceptional and he has that wonderful elevated trot.
He is an amazing world class jumper as was seen at the BWBS Grading in November 1993 where he graded with flying colours. In 1994 he was winner of the Stoneways 3yo Champs, gaining 8 for walk, trot and canter, 7 for his jump and 8.5 for his temperament. He is a most talented Dressage Horse who is beautifully balanced.
On his dam side, Samurai boasts the bloodlines of the famous.
Prinzregent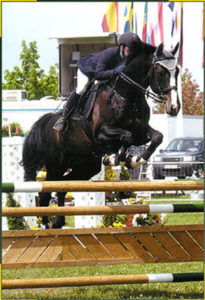 This is a fine example of a well put together champion stallion with good bone and amazing temperament. With names such as Pilot and Waldhorn in his bloodlines, he is out of the Meindl broodmare, Waldrausch, a half-sister of the millionaire sire Grannus.
Madison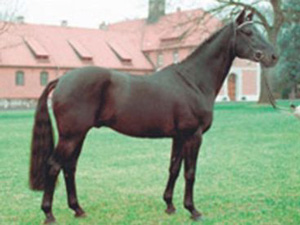 The elite Hanoverian Stallion Madison, was a member of the famous "High School Quadrille of Stallions" until his purchase in 1997 from the Landgestut in Celle, Germany. His excellent rideability comes from one of the most successful refining lines in Hanoverian history, that of Matcho AA, who had seven sons standing together in Celle. Matcho's outstanding record of quality includes 46 licensed sons, 64 States Premium Mares and 215 Main Studbook Mares.
Madison, himself a Grand Prix world class athlete, produced in Germany numerous approved breeding mares as well as many competitive dressage horses. SPS Madonna, dam of ES Futurist, SPS Madira, and MSB Marilyn Hall produced foals that were sold at the auctions in Germany. Madison, a classic black beauty, passes on to his offspring his exceptional movement, elasticity, unbeatable rideability and his impressive jumping ability. Madison's foals in North
America have exceeded expectations: friendly, elegant and athletic, they reflect the best attributes of Madison's line including excellent character, conformation and movement.
Lanthon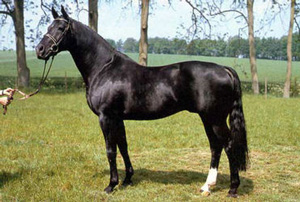 For a very long time Hanoverian breeders have preferred the elegant Lanthan as a producer of excellent dressage horses. But he also has proven to be an important sire of jumping horses. Because of these successes, Lanthan was for many years placed first in the overall breed values of the National Equestrian Federation (FN).
Over his breeding career Lanthan has produced many successful performance horses as well as 15 licensed sons and 65 state's premium mares. His offspring are mostly beautiful horses with elastic movements and a great rideability. They are known for being typy, with good interior attributes and above average rideability. He has sired many conformation champions in Germany and his daughters and their descendants are noted broodmares. The high percentage of Thoroughbred blood in his pedigree makes him a valuable performance and refinement sire. In 1999 Lanthan was the stallion with the highest breeding value in his age-group. Though Lanthan passed away in 2002, his frozen semen is still available.