Umenno
Umenno possesses a good trainable temperament, powerful flamboyant movement, a beautifully marked chestnut and white robe, and a pedigree of legendary ancestry with 50% thoroughbred. Bred with athleticism in mind Umenno is an expressive powerful mover with off the floor paces and has demonstrated good jumping ability in the showjumping arena.
Umenno was also shown in hand throughout the UK, standing Open Non Native National Champion and young stock reserve. He has stood Champion at many National county shows including, the Scottish Chaps National, the Highland Show, Fife Show, and Great Yorkshire along with other wins in Sport Horse classes.

Wellington


His sire (now deceased) belonged to the famous VDL Stud in Holland. Not only was Wellington a successful show jumper, but he was also an achieved dressage stallion. He has sired many 'ster' and 'keur' mares and many approved stallion sons including Farrington, Glennridge and Emillion of World Cup success. His offspring are of International show jumping standard include Jerome, VDL Jupiter and What a Game. Proving himself to be a versatile sire, Wellington also sired many successful dressage horses including Ceylon and Bolvorms to name but a few.

Nimmerdor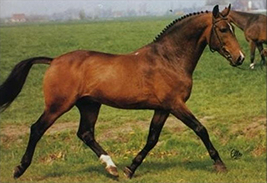 Umenno's grandsire, the legendary Nimmerdor, was named KWPN Stallion of the Century. Son of the 'preferent' stallion Farn, the 'preferant' Nimmerdor was the most famous of all the old-fashioned Holstein's offspring. Nimmerdor has had a tremendous, far-reaching influence upon the world of equestrian breeding and has sired over 50 Approved sons as well as a multitude of international show jumpers and exceptional brood mares.

Samber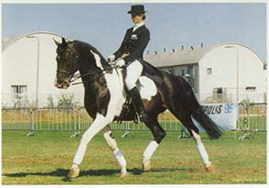 Evelien was a daughter of the world famous Approved coloured stallion Samber; another truly versatile stallion and, to date, the most famous of all coloured sires.
Samber achieved ZZ level in Show jumping and Grand Prix level in dressage. Samber has also proven himself a remarkable sire producing versatile offspring succeeding in all Olympic disciplines and remains the only Approved coloured stallion with the K.W.P.N. – at present.

Pericles
1962 TB -Pericles was an English bred Thoroughbred. He stood at stud in the Netherlands from 1976 until his death in 1987. He was one of very few Thoroughbreds like Lucky Boy to achieve Preferent status. Pericles did some racing and competed in Open Jumpers later in his career. His offspring made excellent sport horses and proved themselves in the breeding shed as well. Pericles was best known as being a dressage sire. He is also the maternal grandsire of the legendary stallion Ulft.

Dam Lines
Craftsman was a very successful thoroughbred stallion by Trocadero who is by Drum beat.