We have put a lot of time and effort into Titan's training and groundwork since he arrived here at our stud in June 2012.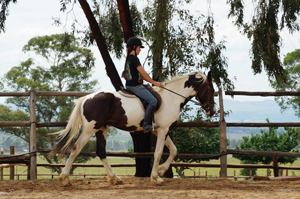 He has truly transformed into a lovely well mannered and gently giant. He is currently standing almost 16hh and is quit an impressive young man.
We have spent hours on the ground and have finally started backing Titan early November, and he is doing exceptionally well under saddle!! He has great movement with extended paces, a good top line, and a good head carriage.
We are so proud of him and we are very excited to be able to have him inspected next year. We are trusting that we will be able to license him for breeding in the near future!!
Here Firn Hyde, one of the talented young riders here at the stables, is training Titan under saddle. He is relaxed and listens well to what is expected of him. Titan is eager to learn with an amazing temperament!!