Weltmeyer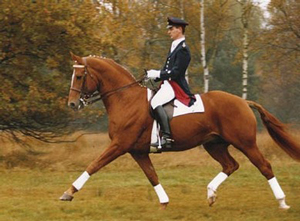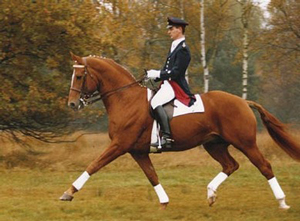 What more can be said about Weltmeyer? He is a legend. He was the 1986 winner of the stallion licensing in Verden, and the 1987 winner of the stallion performance test in Adelheidsdorf. In the same year Weltmeyer also won the three-year-old stallions classification at the Federal Championships of German Riding Horses in Warendorf. In 1988 he was honored in Verden as best stallion of his age-group and awarded with the "Freiherr von Stenglin-Prize". One year later he became DLG Champion 1989 in Frankfurt. And last but not least he became "Hanoverian Stallion of the Year" in 1998.
As of today, Weltmeyer has produced 70 licensed sons, all of them are excellent stallions.
A study of the pedigrees of many internationally prominent Hanoverian dressage horses reveals that many are either by sons of Weltmeyer or out of one of his daughters.
At the 2002 Ratje Niebuhr-Show, Weltmeyer was the leding sire. Out of 51 mares which placed first through third in 17 classes, Weltmeyer sired eight, including champion SPS Wiami and and reserve champion Wicke. Overall, his blood was present in one third of all the mares, by from 25% to 50% percent. When it comes to capacity for dressage and the temperament necessary for a top competitor, this stallion simply cannot be beaten. In 2005, Weltmeyer received a Breeding Value Index of 152 points, with an assurance of 99% heritability, from the German Equestrian Federation.
World Cup I
Licensed Hanovarian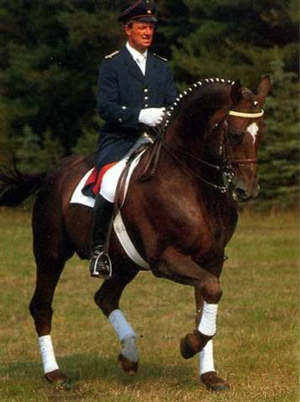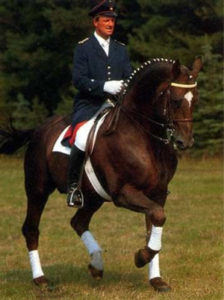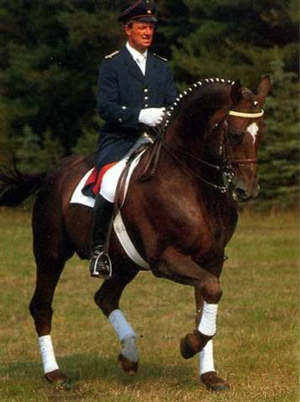 Born 1977 – Standing 169cm
The chestnut stallion was the winner of the stallion performance test in 1980 scoring 197.65 points. A few years later he became Reserve Champion at the DLG-Shows in Frankfurt 1984 and Hannover 1986. Breeders prefer World Cup I as a producer of dressage horses. Over his breeding career World Cup I has produced 424 sports horses, 49 State Premium mares and 17 licenced sons. He also produced Weltmeyer's half brother, Warkant!
Absatz
Licenced Hanoverian
Born 1960 – Standing 164cm
Absatz was the champion stallion of the 1962 Verden licensing. The Trakehner stallion, Abglanz's influence in Hannover, was most felt through his son Absatz who was out of the Hannoverian mare, Landmoor who on her sire's side traces to the famous English Thoroughbred, Perfectionist xx, and on her dam's side from the Shagya stallion Shagy XVII. Absatz was the sire of stallions such as Argentan, Arsenik, Akzent I and II, Admiral I and II, Aktuell and Aderlaß. All told Absatz sired 40 Approved sons, 605 competition horses and 142 Verden auction horses. Thanks to the magic of frozen semen, he continued to sire foals long after his death, and it is rumoured that a vintage cache of Absatz semen is still 'cellared' at Celle. Absatz's modern influence is perhaps most strongly felt through Weltmeyer who is out of Anka by Absatz. Absatz produced 84 States Premium mares and has 823 total registered offspring in Hanover, 446 of which are approved mares in the studbook. Equally impressive are his 348 registered competition offspring whose earnings are 943,787.00 DM.
Dam Sire
Eiger I HANN
The best son of Eisenherz has been Eiger I, whose dam, the State Premium mare Alete, brought the ennobling influence of the Trakehner into the line. Eiger I passed his performance test at Adelheidsdorf in 1978, with above average results in both dressage and jumping, gaining fourth place overall with a total of 113.66 points. The performance test winner that year was Großfürst. Among the others of Eiger I's group were such greats as Bolero, Pik Bube II, and Don Juan, all of which have had a large influence in Hanoverian breeding. However, it was Eiger I that was awarded "Best stallion of his age-group".
Eiger I passed on to his offspring his very good type, rideability, and correct conformation. His get, like their sire, proved to be dual talented, the most well known being Empire, ridden by Dr. Martina Fincke, which won over 85,000 DM in dressage at Grand Prix level, and the internationally successful showjumpers, Esprit FRH (ridden by Lars Nieberg), and Easy Jumper (ridden by Jos Lansink).
Eiger I was the sire of 35 State Premium mares and seven licensed breeding stallions, and continues to appear in the damline of many good horses, particularly where the sire is Warkant. Perhaps the most prominent example of this is the Lauries Crusader xx son, Londonderry, whose dam is Windsor Queen (Warkant/Eiger I). Frozen semen from Londonderry has been used with success by New Zealand breeders.
Eiger I was awarded "Hanoverian Stallion of the Year" in 1999 at the age of 24, and died a few weeks after the ceremony. His line has continued through his most well known son, Espri. Another son, Evergreen, was exported from Germany to Canada.