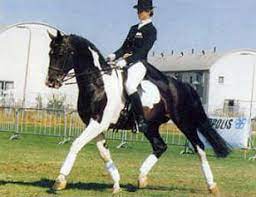 Samber has been called a 'World Wide Legend'. Other superlatives are applied to him, such as 'The King of the Coloured Horses' or 'The Leading Sire of Tobiano horses'. This great stallion really deserves this accolade because he is really out of the ordinary and is now in more than 80% of bloodlines of the coloured horses in active competition.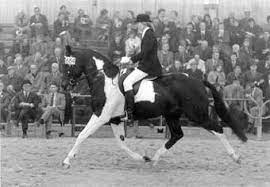 Born on the 2nd April 1976 , Samber took his 100 day test in Holland in 1979. He obtained the exceptional mark of 10 out 10 in character, totalling 160.2 points and was classified as A. His career was just beginning. In the middle of the 80s, having been at stud since 1979, he reached the Grand Prix level in Dressage and the BSJA Grade A in Jumping. At the time, he was covering 55 to 180 mares per season. He is still the only Tobiano stallion to have been admitted in the KWPN A studbook, traditionally refractory to coloured horses.
Samber also descends from an excellent family. His father, Pericles, born in England in 1962 had won several races and also succeeded in Show Jumping. He was named 'Keur' in 1976 and 'Preferent' in 1977. He died in 1978.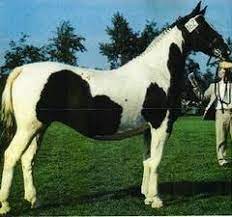 His mother, Tina D was an extremely prolific broodmare, giving birth to 16 products. In 1983, at 19 years old, she has been presented at the 'UTV National Mare Show' with several of her products, including Samber. One can also find daughters of Tina D (such as Wanda, actual sister of Samber) in several winners' pedigrees.
The production of Samber has been extraordinary, in quality as well as in quantity. In his career, he has covered around 2.600 mares, all in natural mating, as his semence cannot be frozen.
Born in 1976, Samber was bred by M Smilda from Roderwolde in the Netherland and stationed at the family Vrieling's in Coevorden where he was also laid to rest in 2009. Samber was the first and only coloured stallion to have been approved by the KWPN stud book. In 1979 he passed his 100-Day Performance test scoring a 10 for character and temperament. With an overall of 160.2 points, gaining an A pass. He scored 7.5 for his jumping and cross country, 8.5 for his attributes in harness and an excellent overall 10 for temperament.
 Samber sired over 1500 foals in his lifetime and remained fertile until 2005 siring his last nine progeny out of the 15 mares covered, a remarkable accomplishment at the age of 29.
The success of this pinto stallion was no accident. His sire was one of the KWPN's influential English bred foundation thoroughbred stallion Pericles xx where he stood at West Grinstead Stud until 1968 but later exported to the Netherlands from 1976 until his death in 1987. He was one of very few Thoroughbreds like Lucky Boy to achieve Preferent status and sired over 2600 progeny. Pericles xx did some racing and competed in Open Jumpers later in his career. His offspring made excellent sport horses and proved themselves in the breeding shed as well. Pericles was best known as being a dressage sire. He sired 12 approved KWPN stallions including Samber and is also the maternal grandsire of the legendary stallion Ulft.
His dam Tina D was a remarkable ster pref prest mare who produced 19 foals, a number of which obtained Ster, Keur and Prestatie status including Wanda, a Keur Preferent Prestatie mare full sister to Samber. Her son Anton (Fresco x Ordonanns x Romeo) made it through to the second rounds of the KWPN stallion licensing. This mare line, commencing with the coloured mare Karoll, a registered Gelders mare of unknown origin is responsible for producing more tobiano sport horses world wide than any other. The origin of her colour has been discussed by many and some have implied that it may well have come from the "Gypsy Cob" of Ireland but the history and origins of tobiano horses identifies that it is much more likely to have stemmed from Asia and Eastern Europe. Their presence has been found on Egyptian tombs as far back as the 4th century B.C. Evidence of their use has been unearthed in the Gobi Desert. Genghis Khan used tobiano coloured horses in his conquests of Asia. Paintings of these horses are plentiful in European art of the 16th, 17th and 18th centuries.
In sport Samber was successful in both disciplines he showjumped up to 1.30m and competed with good results in Advanced dressage. He was also a popular choice in Germany and produced the approved stallion Sambucco B (Samber x Le Faquin x Enfant De Normandie) and the full sister "Evelien" who's dam sire can be found in the young coloured stallion Umenno (Wellington x Samber) who has jumped with success in national age classes. Sambuco B has passed on his grand sires genes to no less than nine approved stallions in Germany including, Sydney (Pilot x Angelo) who jumped up to 1.30m
 Samber was also the sire to the medium level dressage stallion "Sambertino" out of the stb mare "Illustra" (Wellington x Onyx) approved by the ZfDp. Another of his sons "Art Deco" out of the ster preferent prestatie mare "Zorbra" by the Trakehner stallion "Trait D'Union out of the ster preferent mare "Naly" by "floor" was approved by the Oldenburg studbook and was exported to the USA and reached Grand Prix dressage in the USA for Liz Hall and Silverwood Farm. In 1994 the pinto son "Karel" (Samber x Winscosin x Patriek) made it through to the second rounds of the KWPN stallion selections and competed up to ZZZ level in dressage. West Star, the international 4 star mount of Nina Melkonian is his best representative to date in so far as eventing is concerned, Bim Bam Bino, born 1988, by Branco ox, out of Ange by Samber, represents Greece in international dressage, United Colours '91 by Samber out of a Rigoletto x Ramses mare performed well in '97 in showjumping whilst the Iedante I, a KWPN Keur mare won over 150 Dressage points in Great Britain.
Purioso Keur (Furioso II x Martell x Abendglanz )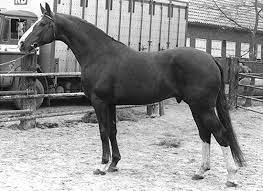 The chestnut stallion, named Purioso have taken a very special position. As an absolute all rounder he is the founder of specialized show jumping and dressage pedigree lines.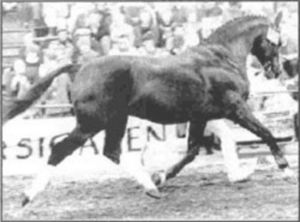 When he was accepted Purioso got the following description: 'Good ride typical stallion with the height of 1.66 m. The space in movement is good, the hind leg is a bit long'. Purioso was placed 10th out of 32 stallions. Breeder is C. Beimforde, Hausstette Germany out of an Oldenburg mare Alinda. His sire is at that time the young (9 years old) Furioso II, who may be considered as one of the founders of the modern European sport horse breeding and who is still influencing many studbooks in Europe with his sons, grandsons and great-grandsons.You can off course think of Voltaire and Concorde in Holland and Fidelio and son Florestan 1 in Germany. Furioso II (v Furioso XX, damsire Talisman SF) became the symbol of the modern Oldenburg sport horse breeding. Furioso II descends, just as Alinda's sire Martell from a Thorough Bred (Trebonius XX), Furioso II's origin is French and Martell's is Holsteiner. Furioso II produced 200 state premium mares and no less than 68 approved sons, many of them are rendering their services on other continents.
Furioso II has certainly influenced breeding on a world wide scale. His full brother is the French stallion Mexico,who's son Le Mexico became famous in Holland as a real jumping horse producer.
Purioso descends also form Westphalian and Hannoverian stallions and mares. Could this mix explain the success for Purioso for the Dutch Breeding?
Thirty years later the combination of German and French blood is still good for success. That explains the success of the Dutch Breeding. The Groninger and Gelder base, modernized with Thoroughbred and improved with the best bloodlines what foreign countries offered us. Germany and France were years ahead concerning using Thoroughbreds in breeding horses. 
Approved sons
Purioso got 5 sons approved with the KWPN, Bently, Cantor, Cocktail,Faldo and Prince Paradiso R. According to this little amount it is remarkable that Purioso's role in breeding still is going on.His genes are still passing through by Faldo and Prince Paradiso R.From both aren't yet sons approved but through Cocktail and his sons there is a strong pedigree in mainly dressage. As his versatile pedigree does suspect, Purioso has been successful in all kinds of breeding. Many of his daughters were placed high at Central Keuringen and his offspring distinguishes themselves in Jumping and Dressage at the highest levels. Because of his good inheritance he received the Keur predicate in 1988. In those days de chestnut belonged to the select group of stallions who got (if you counted the dressage index with the jumping index) more than 240 points. With a dressage index of 125 and a jumping index of 121 he distinguished himself from many other stallions) Besides, almost half of his daughters written in the studbook, received a ster predicate.
Four KWPN approved sons come out of a Purioso mother.One is Consul (sire Nimmerdor) and still active in the US at the Iron Spring Farm. Edwig (sire Zion), is now put on a watch list, but No Limit (sire Indoctro) and the young Tygo (sire Numero Uno) are still active in Holland and are all out of a Purioso mare.
Sporthorses
Most well-known offspring of Purioso in sport are Olympic Wedela, Olympic Ambush and Olympic Cocktail. Wendela and Cocktail are 2 very different horses in different disciplines, one at the highest level of Jumping the other of Dressage. A very young Jennie Zoer trained the grey mare Wendela (m. Sorhaya by Nimmerdor x El Gaucho XX) herself and became relatively very fast a member of the Dutch team. Highlights of their career were the 10th place at the individual class of the Winter equine games in Stockholm. Also Balderdash, Curioso, Deeply Impressed, Chanel, Krielens Consult, Harald II, Kijoy for Ever and Zero jumped at the highest levels.
It depended on the mare with Purioso was crossed what side it went; with dressage in the pedigree of the mare, he produced a nice dressage horse and with a pedigree with for instance Nimmerdor,Rigoletto and Makelaar at dam side he produced a good jumper.
Just like his sire Faldo is declared Keur, his strong inheritance in jumping is seen in the high score for the jumping index.Olympic Cocktail was Purioso's much discussed son in International Dressage, were he got a ranking in the list of the 10 best dressage inheritors. Cocktail was bred out of the mare Ulissa keur, preferent, prestatie. (sire Le Val Blanc XX x Hessel x Antonio) and carried much blood. He was ridden very successful with Anky van Grunsven.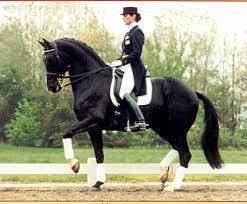 King's dam was by Olympic Ferro
Olympic Ferro, the Dutch sensation at Aachen, competed at the 2000 Olympics and assisted his team in achieving a team silver medal, with an individual score of 74.92%. As a three-year-old he was champion of his performance test at Ermelo, where he achieved the outstanding results of 6.5-step, 8.5–trot and 8.5 gallop.
His sire Ulft, is a son of the great Le Mexico, who is listed 10th on the jumping index with 142 points.
Le Mexico carries Furioso xx blood, which brings value to any pedigree. Ferro's dam,Brenda, is a daughter of the Holsteiner, Farn, who is listed sixth on the jumping index with 146 points. Farn's son Nimmerdor, is listed second on the jumping index with 155 points.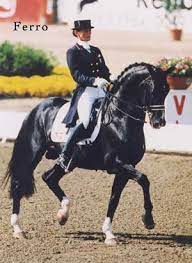 Olympic Ferro sired the champion of the three-year-old stallions at s'Hertogenbosch in 2000, and has nine young stallions in the second round there in 2001. The champion three-year-old mare at Ermelo in 2000 was an Olympic Ferro daughter. Much is expected of this charming, talented black stallion who achieved the title of "Keur" in 2000.
He can be relied upon to produce beautiful, typy, talented offspring of the highest quality. Fantastic toplines and an elegant look characterize his get. In addition to their dressage excellence, Olympic Ferro's offspring also make good jumpers. Olympic Ferro is #1 on the BN World Stallion Rankings for dressage and is the top stallion and pride of the Netherlands, affectionately known as the "Black Pearl." In 2002 Olympic Ferro once again had the highest scores on the Dutch Olympic team.