Second Empire
A son of Fairy King, Second Empire won three races as a two-year-old after joining O'Brien, culminating in his victory in the Group 1 Grand Criterium at Longchamp which left him one of the leading colts of his generation and top-rated among Irish juveniles.
As a result, he was highly touted for Classic success, but his three-year-old campaign proved a disappointment following a controversial third to Desert Prince under apparent tender handling in the Irish 2,000 Guineas.
He ran poorly in the Derby before scoring his sole success of the year in the Group 3 Desmond Stakes at The Curragh.
Afterwards, he was placed in Group 1 company at a mile before coming sixth in the Breeders' Cup Mile.
Northern Dancer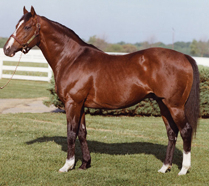 Northern Dancer (May 27, 1961 – November 16, 1990) was a Canadian-bred Thoroughbred racehorse who won the Kentucky Derby and Preakness Stakes and who became the most successful sire of the 20th Century.[1] The National Thoroughbred Racing Association calls him "one of the most influential sires in Thoroughbred history".[2]
A bay colt, Northern Dancer was by Nearctic and his dam, Natalma, was by Native Dancer.[3] In 1952, Edward P. Taylor, Canadian business magnate and owner of Windfields Farm, attended the December sale at Newmarket, England where he purchased Lady Angela, a mare in foal to leading English-based sire Nearco. The following spring, Taylor sent Lady Angela to be bred to Nearco again, then shipped her to his farm in Canada later in 1953. In 1954, Lady Angela foaled a colt in Canada named Nearctic, who was voted the 1958 Sovereign Award for Horse of the Year.
Northern Dancer stood at stud at Taylor's Windfields Farm in Oshawa, Ontario, until 1969, when he was moved to Windfields' Maryland farm, where he remained until his death. Northern Dancer was the most successful 20th century Thoroughbred sire. His offspring earned more money and won more major stakes races than those of any other sire up until the 1990s era of shuttle stallions, including North American, Japanese, Australian, and European champions. He sired 147 stakes winners including Nijinsky II, winner of England's Triple Crown, as well as The Minstrel, Shareef Dancer, Secreto, Northernette, El Gran Senor, Lomond, and Fanfreluche.[4]
He has been named the 20th century's best sire of sires, producing multiple champions in both the United States and the United Kingdom.
In the 1980s, Northern Dancer's stud fee reached US$1 million, an amount four to five times his rivals and a record amount that as of 2009 has not been equalled.[7]
Although he has been dead for almost twenty years, there are more Northern Dancer-line Breeder's Cup winners than any other horse. According to France Galop, since 1994 the male bloodline of every Prix de l'Arc de Triomphe winner goes back to Nearco, his son Nasrullah, and his grandson Northern Dancer.
He was retired from stud (breeding) on 15 April 1987 at the age of 26. He died in 1990 and is buried at Windfields Farm in Oshawa, Ontario, Canada. Northern Dancer's remains were brought back to Canada for burial. Windfields Farm has subsequently been abandoned, and Northern Dancer's burial site is not publicly accessible. In 1999, Canada Post honoured the horse with his image placed on a postage stamp. A residential street was named after Northern Dancer on the former site of the Greenwood Race Track in east-end Toronto. There is also a life-size bronze statue of the horse outside Woodbine Race Track in northwest Toronto.
Model Man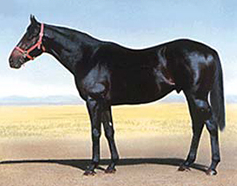 Model Man won 14 races, five of them at Group 1 level, notably the J&B Metropolitan, the Champion Stakes and the Schweppes Challenge. He was Horse of the Year and Champion Older Male for the 1986/87 season.
Model Man was one of the best sons of Elliodor, who passed away last year. A son of Lyphard from the family of Busted, the Longchamp winner Elliodor ranks as one of the best stallions of modern time in South Africa since his import in 1981. Syndicated, Model Man retired to Odessa Stud 1988. Model Man himself is inbred to both Court Martial and Blue Peter. Theorists will also point out his duplications of the close relatives Nearco and Botticelli through the famous Tesio tap-root mare, Nogara.
Like his sire, Model Man has sired several Group 1 winners, his most recent the Empress Club Stakes winner, Legality and the Nursery Stakes winner, Fallon. Champion Juvenile Special Preview came in Model Man's third crop, and became a sire himself.
Other notable Group 1 winners include the unbeaten Champion Juvenile Filly Private Reserve and the Champion 3yo Filly League Title. The filly Model School was a member of Model Man's first crop and landed the Paddock Stakes (Gr 1) while the Allan Robertson Fillies Futurity (Gr 1) winner Fair Model came in his second, Champion Stakes (Gr 1) winner Amberpondo in his third and Model Man's reputation was established.
As a broodmare sire, Model Man is responsible for Sabina Park and Philippa Johnson, and this year's Guateng Guineas winner National Spirit.
Model Man died on 13 October 2005.